Audica Professional News
Recent news items are shown below. For full articles and press releases please view the individual items on the right.

___________________________________________________________________________
AUDICA SHOWCASE PRODUCTS AT LEADING HOTEL EVENT
Audica, the leading commercial loudspeaker company and part of Armour Home, has exhibited with Audiologic, the UK specialist provider of pro-audio and commercial sound equipment, at the Independent Hotel Show at Olympia London for the second year.
Audiologic showcased Audica's portfolio of commercial speakers and flexible audio solutions, which already deliver high quality sound within many hotels across the world. This includes Trump Turnberry in Scotland, where 86 MICROpoint loudspeakers (with externally mounted 100V transformers) were installed in public spaces throughout the building.
Alex Munro, Brand Director at Audica, said: "The Independent Hotel Show is a fantastic event providing delegates with advice and recommendations with regards to creating an exceptional audio experience within hotels."
___________________________________________________________________________
AUDICA DELIVERS SPEAKERS FOR GLOBAL AV
SPECIALIST'S NEW FLAGSHIP SHOWROOM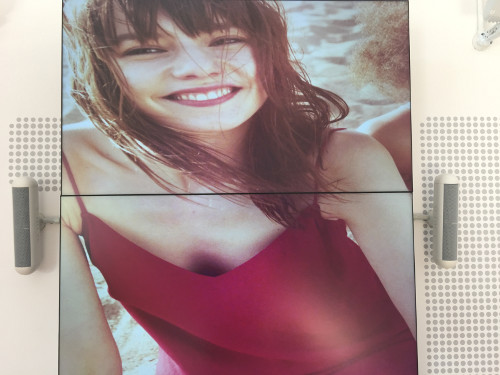 Audica, the leading commercial loudspeaker company and part of Armour Home, has played a key role in the creation of a new flagship showroom launched by Trison Worldwide, the audiovisual integration specialists. The company installed an extensive, high quality speaker system within the new centre, located at Thames Wharf Studios in London.
Audica provided a total of 22 speakers and associated products across the showroom, a separate meeting room and for a static display that houses a wide range of audio solutions. The installation incorporated several MicroPoint wall mounted speakers that are designed to be as small as possible whilst retaining high-quality audio, as well as the MediaTrac, the elegant full range speaker. The setup also included the MicroZone, an amplifier/controller that provides flexibility for a wide range of applications with a single control, a MicroPlus power amplifier and the practical and powerful MicroSub subwoofer
___________________________________________________________________________
AUDICA MICROPOINT SPEAKERS PLAY
SUPPORTING ROLE AT V&A
Market-leading loudspeakers from Audica Professional have been used to create an enhanced atmosphere within a new exhibition at the V&A in London. A total of 41 Audica MICROpoint loudspeakers have been positioned strategically around The Fabric of India to create an ambience that is in keeping with the exhibition.
The Fabric of India is the first exhibition to fully explore the incomparably rich world of handmade textiles from India. Music composed by sound artist Jason Singh complement the spectacular objects on display. Audica MICROpoint loudspeakers were chosen due to their ability to deliver high quality sound despite their small size, which allows the speakers to discreetly blend into the background.
___________________________________________________________________________
Tommex Chooses Audica for Afrykarium Restaurant
Located in Wroclaw, Poland, Afrykarium is unique complex presenting the different ecosystems of aquatic environments of the African continent. The massive complex combines a three storey 9000 square metre building with 7500 square metres of external grounds, with nineteen aquariums and pools having a capacity of nearly 15 million litres of water.
The sound systems throughout the Afrykarium complex were provided by Tommex Zebrowscy Sp. J. Marcin Zimny, Commercial Director of Tommex explained, "Afrykarium presented us with a wide range of requirements including sound effects systems for the African regions, AV for the conference facilities and an audible alarm system throughout. We chose the most appropriate systems for each application, and for the restaurant that was Audica."
___________________________________________________________________________
Dancefloor Complements the Design of Café Placzek with Audica Professional
Dancefloor, s.r.o. has completed the installation of an Audica Professional MICROseries system in Café Placzek in Brno. Situated in the southeastern part of the Czech Republic, Brno is the second largest city in the Czech Republic and is the historic capital city of the Margraviate of Moravia.
Brno Café is located in a building that dates from the 1930s. Built by famous local architect Arthur Eisler, and renovated by the RAW studio, its striking style includes the attributes of 'First Republic', modern design, Viennese style and austere functionalism, and Dancefloor chose Audica MICROseries to provide an audio system that merged with the minimalist interior.
On the ground floor, Dancefloor installed ten Audica MICROdot micro ceiling loudspeakers in white, to merge with the white ceiling and be almost invisible. Two Audica MICROsub active sub-bass loudspeakers are fitted under the seats in the corners, to also be invisible and not detract from the minimalist interior. Two MICROsubs are similarly installed on the upper floor, and here they are combined with four ultra-compact surface-mount Audica MICROpoint loudspeakers, again in white.
___________________________________________________________________________
Alliances Provides Audica Professional Sound Quality for McDonalds in Vietnam
Alliances Integrated Systems has completed the design and installation of an Audica Professional audio system for the first McDonald's restaurant in Vietnam.
"Our team proposed a solution providing the coverage, zoning and functionality the restaurant required, but the decision was only made after we gave a demonstration to show the system's capability and audio quality," explained Vu Viet Tung, Business Development Manager of Alliances Integrated Systems. "Not only were we able to exceed expectations, but also meet the required budget."
___________________________________________________________________________
Applicom Provides Virtually Invisible Sound for the Eurostar Cellar in Abu Dhabi
Applicom has completed the design and installation of an Audica Professional MICROseries audio system for the Eurostar Cellar in Abu Dhabi.
The black MICROpoint loudspeakers are discreetly installed in the dark ceiling area and are virtually invisible to customers.
The three zone system is split over the ground floor and basement areas. In total, ten MICROpoints are powered by three MICROzone controller/amplifiers. One zone uses an MP3 source, with the other two running internet radio. The MICROzones are controlled by WMR wall-mount remote panels conveniently positioned for ease of operation by the staff.
The audio quality has been highly praised, with the MICROpoints operating full range and without the need for subs.
___________________________________________________________________________
Major Brands Provide a Clear Message with Audica Professional
'Loudspeaker spotting' is an occupational hazard familiar to many in the professional audio industry. Audica staff are no exception and they have provided these photos of our loudspeakers 'getting the message across' in high street installations.
The first shown here is Lloyds Bank (Edinburgh), where distributed MICROpoint loudspeakers provide an audio information service.
Similarly, in Marks and Spencer (Bishops Stortford) a promotional display features a 'this season' clothes rail bounded by two pillars, each housing a large touch screen allowing customers to browse an 'outfit builder'. Each of the two pillars has audio provided by two Audica Professional MICROpoints, driven by a MICROzone.
Similar Audica Professional systems are used in selected Lloyds Bank and Marks and Spencer branches across the UK.
Audica Professional loudspeakers are frequently chosen for such applications for their audio quality with excellent vocal clarity and for their discreet, stylish appearance.
Another recent 'spotting' was at the new Stonehenge Visitor Centre. Managed by English Heritage, Stonehenge is one of the wonders of the world and the best-known prehistoric monument in Europe.
Visitors to Stonehenge now enjoy a transformed visitor experience, with a new world-class visitor centre, housing museum-quality exhibitions, plus five Neolithic Houses and a spacious shop and café.
Audica Professional loudspeakers have been widely used throughout the new centre, providing the audio for the AV systems.
___________________________________________________________________________
Audica Professional MICROline Loudspeakers Installed in the New Music Facility at the University of Kent, Canterbury Campus
The University of Kent, Canterbury campus has built a new £8.2 million music facility, with acoustics by Arup, venue consultancy by Carr & Angier and sound system design by Peter Mapp Associates and Marquee AV.
The gallery in-fill was provided by ten Audica Professional MICROline loudspeakers powered by three MICROplus 4-channel amplifiers, appropriately "delayed" in five delay zones, both in order to maintain appropriate sound localisation on the stage and to achieve high levels of intelligibility.
Read the full article in L&SI here ...
___________________________________________________________________________
Audica Professional MICROseries Installed at The Hippodrome Casino, Leicester Square, London
Father and son team Jimmy and Simon Thomas have invested more than £40 million transforming the former Hippodrome Theatre in Leicester Square, London, into a high-end, opulent casino, blending theatrical history with contemporary, luxurious furnishings. The complex comprises three floors of gaming with the main gaming floor based in the original 60-foot theatre atrium, but what really sets this venue apart is its other facilities; a 180-seat cabaret theatre, an impressive restaurant, four private dining rooms, five bars and a number of lounges and events spaces.
Audica Professional MICROseries have provided a number of unique solutions for the outstanding audio installation, designed and installed by Willow SoundVision, a specialist integrator of audio visual systems and digital media solutions. With around 40 networked zones, every audio product was carefully selected to be the best solution for the building and the multi-purpose way it can be used.
___________________________________________________________________________
Saturn Audio Visual Installs Audica Professional Style and Quality for The Pigs in Edgefield
Saturn Audio Visual has recently completed the installation of Audica Professional MICROseries sound systems for the new guest rooms at The Pigs in Edgefield near Holt in Norfolk, England. The award winning 17th century The Pigs establishment incorporates bar, restaurant and accommodation facilities.
For its seven new suites The Pigs wanted to create guest rooms with a real difference. Situated on the ground floor and decorated in stylish, neutral tones, each of the light and airy spa rooms comes with a private two-person sauna, dual bathing oak-clad bath and their own courtyard garden with a fire pit and modern outdoor seating. The new rooms are located off a sunny central corridor and the seven suites boast high ceilings, wooden floors, and beautiful marble bathrooms.
___________________________________________________________________________
Audica Professional's MICROseries a Perfect Match for Fresh's Bold New Look
With the installation of Audica Professional's MICROseries audio system at Fresh's flagship Union Square location in New York City, the high-end lifestyle and beauty store gains a powerful, compact sound system that matches their design aesthetic and enhances the experience of customers by encouraging them to "shop to the beat."
"Since we opened our first location in Boston in 1991, music has always been an essential element of the shopping experience at Fresh," says co-founder Alina Roytberg. In fact, Fresh updates its musical content programming on a monthly basis, but providing the ideal accompaniment for customers does require care, she adds. "You never want your customers to hear their own steps, but you don't want to distract customers from what our associates are saying either. The Audica Professional sound system works excellently in our spaces."
___________________________________________________________________________
Future Media Systems Chooses Audica Professional for Historic Minster
A landmark building, the two towers of Wimborne Minster are seen from whichever direction you approach the Dorset town of Wimborne. There has been a church on the site for 1,300 years,with the greater part of the architecturally significant Church we see today being built by the Normans between 1120 and 1180. Its library is one of the first public libraries in existence and is one of only four surviving chained libraries in the world.
Luke Siemaszko, Director of Future Media Systems, explained their approach, "Audica Professional MICROpoint loudspeakers were a key feature in our winning bid. These offered excellent sound quality from a very compact package with a minimally intrusive appearance. We adopted a distributed approach, so that the room reverberation was stimulated as little as possible, with the congregation hearing the highest possible ratio of direct sound to reflected sound. To achieve this we used thirty-five MICROpoint loudspeakers to cover the nave, aisles, two chapels, two transepts and the choir".
___________________________________________________________________________
Turnberry Resort - A 20th Century Building with a 21st Century Audio System
Turnberry has a long golfing heritage that all started back in 1901, when the first formal course was constructed. Since then its fairways have been shared by the game's elite and enthusiasts from all over the world. Turnberry is so important in the golfing world that it has held The Open Championship four times; most recently in 2009.
In 1997 the hotel was bought by Starwood Hotels and Resorts Worldwide Inc. and operated under the Westin Brand until October 2008, at which point Leisurecorp, Dubai World's sport and leisure subsidiary, purchased the resort, with Starwood Hotels & Resorts continuing to manage operations under the The Luxury Collection brand.
With the change of ownership, an extensive £30 million restoration began. Led by interior designer Mary Fox Linton, the renovation will return the 103-year-old hotel to the original vision of its architect, James Miller, keeping the red-roofed Turnberry Resort in its rightful place as one of the world's top hotels for years and years to come. Phase one of this extensive refurbishment targeted the public spaces, and selected bedrooms in order to open to the world's press and media in time for The Open 2009.
___________________________________________________________________________
EAS Installs Two Sites at ION Orchard Singapore with Audica Professional
Audica Professional MICROseries audio systems have been installed in two high quality sites at the new ION Orchard complex in Singapore. The systems were designed and installed in the Fish and Co. restaurant and at Epicentre, an Apple Premium Reseller outlet, by Electro-Acoustics Systems Pte Ltd., Audica Professional's Key Installation Partner in Singapore.
Located at the gateway to Singapore's most prestigious Orchard Road shopping strip, ION Orchard's award winning design was by leading architecture firm Benoy, who brought us iconic malls such as the Bullring in Birmingham, UK. ION Orchard is the retail component of the retail-cum-super-luxury-residential Orchard Turn, a prime landmark project jointly owned and managed by Singapore's CapitaLand Limited and Hong Kong's Sun Hung Kai Properties. The development is strategically situated above the Orchard Mass Rapid Transit (MRT) station and will enjoy underground connectivity to nearby buildings. When completed, the Orchard Turn development will boast over 640,000 square feet of net letting space and luxury homes.
___________________________________________________________________________